Testimonials
I have had Michael Fisher as my professional Resonance Repatterning practitioner for 8 years. Michael is brilliant and on the forefront of new and exciting methodologies and practices that solve problems deemed previously unsolvable using more standard and/or less cutting-edge practices. My work with him has untangled - and simply removed - many lingering "issues" which had plagued me for decades before a therapist friend of mine recommended I start working with him in 2008.

I can't say enough good things about Michael, and if you're not sure what he does or how he does it, he is fantastic at explaining it and leading you through the first sessions step by step. There is extensive information on his website about his different practices. Highly recommended! One more note: Michael's pricing is VERY reasonable per session, and he is very accommodating and able to do this work with those of us who are not located where he is located.
Carol S.
Seattle, United States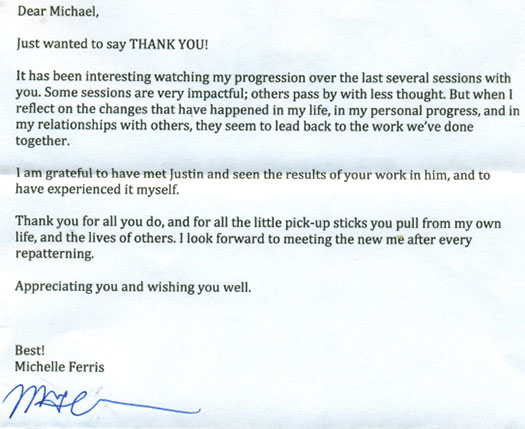 When I started having phone-in sessions with Michael a number of years ago, I never imagined it would take me on the journey to where I am today. We had to do a lot of spadework around my fear of failure, most of which was influenced by my early childhood experiences. I was reluctant to expand my business in case I would fail to sustain its momentum and be unable to honor all my financial commitments.

I had to work around a lot of issues around anger and staff management that also affected my home life, when I got back from work.

With Michael's encouragement I enlarged my staff, moved to larger premises and looked for further ways of finding motor equipment that could come into my workshop. Michael suggested that I implement regular Monday morning meetings where I could get together with my staff. I would have notes ready about the previous week, with any problems that needed to be sorted out. I encouraged my staff to talk about any problems they are encountering, or any problems with spares that we needed to order in.

At one point, Michael spoke, in relation to one of the problems I was encountering; about 'spiritual nostalgia' and what it means that struck a chord in me. As a result it has opened a whole new world of possibilities for me in terms of who I am and my spiritual journey.

There are no limits as to what we can talk about, and it gives me further insights into how I can operate in my world to my fullest potential.
Sincerely,
S.M
To whom it may concern,

About two years ago I had run into a brick wall concerning my cooking/baking business. My wife and I had consulted with Michael a number of years previously about or fears of having another child and the problems we experienced personally that was affecting our marriage.

On this occasion it was about the fact that I was not exploiting my full earning potential, particularly as a master baker, who specializes in wedding and special occasion cakes and confectionary. I felt awkward about asking my customers for the prices I charge for my elaborate wedding cakes, fearful that they wouldn't want to pay me for the work and time that I put into my cakes that contributed to the cost.

Michael suggested, amongst others things, which I create an album of photographs of my cakes with the cost of the cake on the back of the page, and just let the cake and price speak for itself. If my client said, "I don't want to spend so much." I could just say: "OK, let's look at some other cakes that are more in your price-range." That way I could stick to my price, instead of lowering it to suit my customer, without feeling embarrassed or awkward. As often happens with a bride, once she sees the cake she has set her heart on, she will come back to the original cake.

Michael has also encouraged me to find a balance in my life, so I can spend more quality time with my two kids. He has encouraged me to 'make lists' and not just to rely on my memory for everything I need to do. I find my time management has improved and I am now involved in teaching in a culinary school.
Thank you,
Dan This is a letter received by teacher and practitioner Michael Fisher in Vancouver, British Columbia. His client, a business owner, writes about the result of shifting resonance for his staff, and for himself as an effective leader. We're happy to print it, and invite you all to submit your testimonials from clients who have benefited from a shift in their resonance.
I have had the pleasure of working with Michael Fisher and the Resonance Repatterning system on many occasions over the last five years. Each time we cleared some blockages and created a smoother flow in my life. During my last visit we focused on my Company.

At the time, I was one year into a staff expansion. The problem was that our sales had dropped, unexpectedly and for seemingly no reason. I knew that my staff was scattered and the feeling of synchronicity we once shared had disappeared. I tried some different kinds of motivational work to help my staff but it actually felt like we were digging a deeper hole.

I asked Michael for some help. In just a few sessions, he took hold of the situation and began to pinpoint what was holding us back. The first noticeable result was a more balanced distribution of responsibility among the staff. Next, he worked with my office manager to release her attachments to the way things used to be. So in a very short time there was a noticeable change in my staff's attitude.

Finally, Michael focused on me. He helped to redefine my role and remove my blocks to being the boss of a larger staff so I became more confident with everyone around me.

WOW, have things ever transformed. The flow of abundance is increasing and my staff is rocking. There is a definite new flow of opportunity towards my Company and a knowing that we are all on a healthy, prosperous path of change.
With gratitude and thanks!
Tim Reeves Dear Michael,
When I first encountered the power of Resonance Repatterning in the play "Popcorn" I was overwhelmed by the holistic nature of the process. Never had I spent such valuable time in a rehearsal process than the three hours that we spent examining the "Popcorn" hologram. I tend toward alternate healing in my daily life, but I had never experienced all the different aspects of dealing with problems at once.

When I took on the role of Robbie In " Shopping and F***ing", the first thing that struck me was that we needed to look at the holograph of this play and try and address the stresses and fractures that this extraordinary play brought with it. Thank the "higher powers" that I did! Without the Holographic Repatterning that we did, I think the play would have suffered and more importantly, we, the actors, would have suffered terrible consequences.

No other work has been so valuable to me as an actor as Holographic Repatterning (Now Resonance Repatterning).It has taught me to look at the whole and to work from a point of love. I am the kind of actor and perhaps, human being, Tthat will always be attracted to the darker aspects of life and this has been one of the ways that I can tell my stories and still preserve my soul!
Love and good luck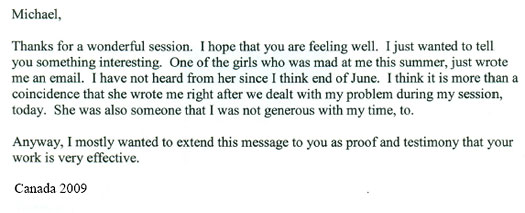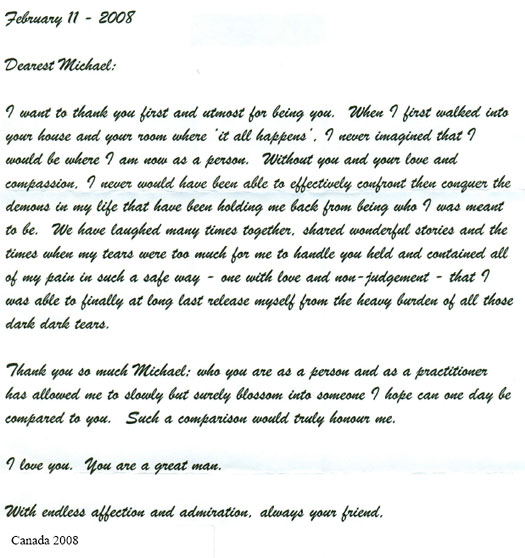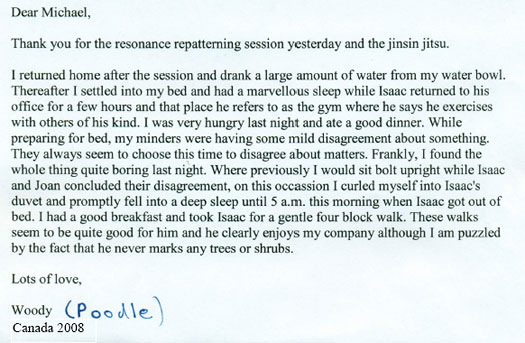 ---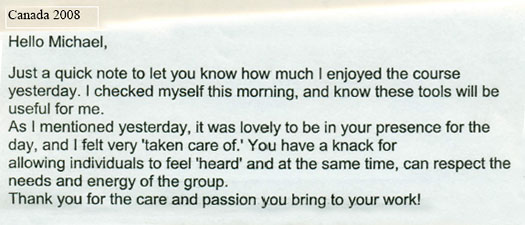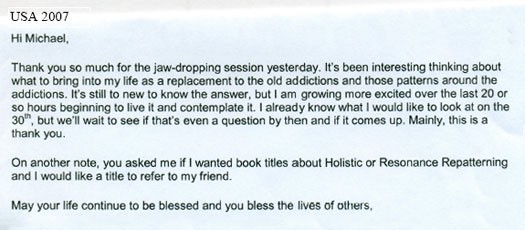 Michael,

My deepest thanks for all your help and support. I must also thank you for the wonderful opportunity of the empowerment workshop - what an experience! You are a gifted therapist and teacher and I am so grateful for all you have shown me.

With love,
Tracey L
September, 2006
Dear Michael,

Thank you, thank you, thank you for the seminar yesterday - it was DIVINE! It was FUN, deep, meaningful, uplifting, enlightening, inspiring and I could go on for hours...

Despite the tiny exhibition of inhibition between my "little girl" and the "adult" in the dancing sessions, I loved everything we did.

(I purposely held back yesterday because I felt that Trina needed the time and space to get to the "next" level in her discovery of her journey - I too had some nasty images and flashbacks when we did the "centering" module, but I was more engaged as an "observer" than as a participant and a victim. We couldn't have had two survivors of childhood abuse sharing, it would have been too much for the others. My opinion, and I could be wrong...I just wanted to explain it to you.) I benefited by proxy.

What I loved most is your ability to share your "joie di vivre", your wisdom and your passion for life.

It was as if we were watching a play and we had the privilege of joining in every now and then to experience our own roles in life and how full our lives can be if we make the right choice for right action.

Much love,
Lisa
15 January, 2006
Dear Michael,

Thank you for the opportunity to observe the entire process of a Holographic Repatterning session last week. The energy and flow was truly wonderful to experience. I promise to track down a recorder for the next time and tape/type out your intro. I believe that getting to observe certified practitioners is an essential part of study in developing understanding for the practice of HR. I feel fortunate to get to work with you because you have been a part of the development of the work and fine-tuned the process for better implementation.

I was also very much interested in the overlaps and extension of what you have been guided to incorporate through your life work/studies. This deepened the session and supported K... specific to her needs.

Sincerest Appreciation,
Kimberly
19th July, 2005
Dear Michael,
Reference - Jin Shin Jyutsu

I want to extend my very sincere appreciation to you for taking the time from your busy schedule recently to treat our beloved toy Poodle Sammy for a luxating patella.

Prior to your attendance, Sammy was experiencing extreme pain and displayed a marked difficulty in moving. Subsequent to your treatment I noticed an immediate and dramatic improvement in the dog's mobility and a cessation of pain. I have persisted in rendering gentle pressure to the dog's meridians as instructed by you with obvious good and sustained effect. Sammy rarely lifts the effected leg when walking and his mobility is vastly improved. He has returned to that happy, active six year old Poodle we all adore.

I am very grateful to you for your intervention. The alternative course of treatment as proposed by the veterinarian was a sustained course of anti inflammatory medication and possible surgery.

Yours sincerely,
Isaac Moss
5th July, 2005
Dear Michael,
Re:- Holographic Repatterning

You have done Holographic Repatterning (HR) Sessions on me for nine years and I took the Empowering Yourself with HR seminar in October, 2002, which I use every day. It has kept me sane through very trying times; so to sum up I'm an HR convert. However, I would like to put on record the last session I had with you as it shows just how the Universe operates if we are open to it.

About a month a ago I came across a six step exercise which one of my support group passed onto me, and it struck a chord; I have been grappling with keeping my head above water when opportunities don't come to fruition; and I was getting tired of this ongoing cycle. What struck me was: "If you keep THINKING what you are thinking, you will keep DOING what you are doing, and you will keep GETTING what you are getting.

Deep down I was not resonating with making money, despite all my efforts to do otherwise, hence my request for an HR session. Your sessions with me always tend to go deep and it is incredible what comes up. My last session was profound and at one stage it came up that I had to have a session from another practitioner.

I was amazed how the Universe knew that. It is as though they are custom made; the HR session put me in touch with her, and resulted in getting what I needed.

Many thanks for the HR sessions I enable to cope with the challenges of life and grow as I travel life's journey; helping me to understand the Law of Attraction:


The things I attract in my everyday life are a direct result of what I think, feel and believe.
"like attracts like". Everything in our universe is made of energy. We are magnetic human-beings that are made up of frequencies and that energy attracts people, circumstances and conditions into our lives.
I hope that after my last HR session, and this positive action, I will become more aware of controlling my negative thoughts and manifest what I should be manifesting.
Sincerely,
JR Vetter
17th June, 2005
Dear Michael,
Re:- Jin Shin Jyutsu

I would like to thank you for doing daily Jin Shin Jyutsu treatments on my badly fractured right wrist after taking a tumble on the black ice on the 5th January.

After the operation during which they put three pins into my forearm to hold the fracture in place I was aware of the trauma and the three times daily Jin Shin treatments really helped both to settle my arm down and to speed up the healing process. The Surgeon originally said it would take two months for the cast to come off, this was later amended to six weeks as a result of the escalated healing process.

It was great having these treatments to help manage my pain and help facilitate the healing process. I was able to stop taking painkillers, after the first two weeks.

I would definitely recommend Jin Shin for any fractures or sports injuries.

Sincerely,
Roland Vetter
23 February 2004
Dear Michael,
Reference - Empowering Yourself with Holographic Repatterning Seminar

The class on Saturday was so much fun!! I am thoroughly enjoying my new tools and using them daily.

Thanks for the wonderful experience on Saturday! Your home is beautiful and you are a most engaging and playful teacher! I left feeling as though I had absorbed a tremendous amount of learning and did many energy shifts as a result!!

Talk to you soon!

Warmest regards,
Michele, USA 2004
Dear Michael,
Reference - Empowering Yourself with Holographic Repatterning Seminar

I have written a few words about the Empowerment workshop held on July 24th, 2004 in Vancouver Canada.

PART 1 July 25th The Empowering Yourself Workshop was structured to honour both the process and each participant. I can describe it succinctly as a religious or spiritual experience. Everything conspired to create an environment of respect and acceptance. Michael Fisher was directly responsible for bringing this into being.

The material felt as though it was just the right amount of information. I understood how dense the information was but never considered myself overwhelmed by it. The presence of two coaches helped to reinforce the feeling that any kind of help was readily available.

As I assimilated the information, I knew this offered me what I had been looking for - true self-help as opposed to what passes for it on bookshelves currently. A system, through which I can work on me.

PART 2 August 7th Does it work? I thought I would wait to see what I could say about the Empowering Workshop after a couple of weeks. The program has become a daily tool I use to centre and mellow myself. I feel doing it each day aligns and balances the spiritual, emotional, mental and physical aspects of my being. That says it all.

Elaini, Canada 2004
Dear Michael,

I am happy to report that as a result of these Body Talk sessions, I have noticed a tangible dramatic improvement in my shallow breathing problem. This has translated into a substantial increase in my energy levels and as a consequence an ability to steadily increase the duration and intensity of my workouts at the gym. Where previously I could only manage a maximum of 50 minutes of physical activity and suffered fatigue after exercise, my workouts currently extend to some ninety minutes with a substantial increase in energy.

I would like to extend my heartfelt appreciation to you Michael for all you have done.

With warmest regards and all good wishes
I. M, Canada 2004
Hello, I am a thirteen year old boy who has attended a few HR sessions with Michael. He is really awesome. He will give you insight and make you realize more about yourself. He is very understanding, and the money you spend is well worth it. Some personal experiences are getting to look back at traumas, and getting to feel better about them, knowing they will not happen in the future. Overall, I think the time I have spent with him was well worth it and extremely helpful, not just for now, but for the rest of my life.

Z.K.D, Canada 2002
My experience has been that the work of Holographic Repatterning is mysterious, empowering, and exacting in its interventions. Mr. Michael Fisher is present, strong, and insightful and compassionate in his work.

S.F.K, Canada 2002
15 years ago, I had a violent, tumultuous relationship with my husband of seven years. 3 years ago, my ex husband came to my home and was able to abuse and batter me one more time. I was absolutely traumatized. I thought there was no hope or possibility that I would ever overcome this s--t. So, a friend sent me to see Michael Fisher. I did a couple of HR sessions with Mr. Fisher and I am ecstatic to say that my ex husband has never been able to affect me since! Michael's greatness comes from his absolute integrity and from his willingness to allow the process! Also, I am living with Multiple Sclerosis, which presents many symptoms. Recently I have been doing sessions of Body Talk with Michael Fisher. This process is incredibly accurate and non-invasive and I have been able to get rid of symptoms like vertigo, double vision, depression, insomnia, headaches. I am more balanced now and I am also maintaining my cognition. Michael Fisher has huge interest and knowledge of the human condition and is able to pass it on with much compassion.

Forever Grateful, Canada 2002
Dear Michael,

I give thanks to you and my guides for leading me to you. Your gifts as a healer and your intuitive "hearing" is inspiring. Thank you for your contribution to my growth through H.R.

Elena, Canada 1999
Dear Michael,

On behalf of Johnny and myself we would like to take this opportunity to thank you so much for treating us for the past four years. The reflexology that you did was wonderful and helped us both enormously, especially when we were trying to have a baby. We are convinced that without treatment from yourself Emma, who is the joy and light of our life, probably never would have happened. When Emma developed a very bad constipation problem you very kindly re-patterned her for me, and the problem is now long gone. Also, she is a very happy and contented little girl, which is due, I am sure, to her being re-patterned. You also re-patterned me which was very helpful to me in my life at the time, and I can truly say I am thrilled to have had it done.

God Bless You
Tracy, South Africa 1998
Dear Michael,

I want to state the wonderful changes that have taken place in my life since you began doing Holographic Repatterning on me. I have found these changes to have been wonderfully subtle. No bolt from without, but a quiet, sure, change from within. My abilities in my job, and as a mother and wife, have improved enormously - to everyone's benefit!

With Love & Sincerity
Robyn, South Africa 1997
Dear Michael,

After nearly 18 months in your hands, literally and figuratively, I think I am fair testimony to the effectiveness of your treatments. As you know, I was at a very low ebb when I was bullied into coming to you post-chemotherapy. If I still harbored any doubts about your treatment, they were comprehensively scotched when I stopped coming to you for a while and went into a general decline, which was happily reversed by reverting to your diet, supplements and reflexology.

With love and thanks
Christine, South Africa 1997